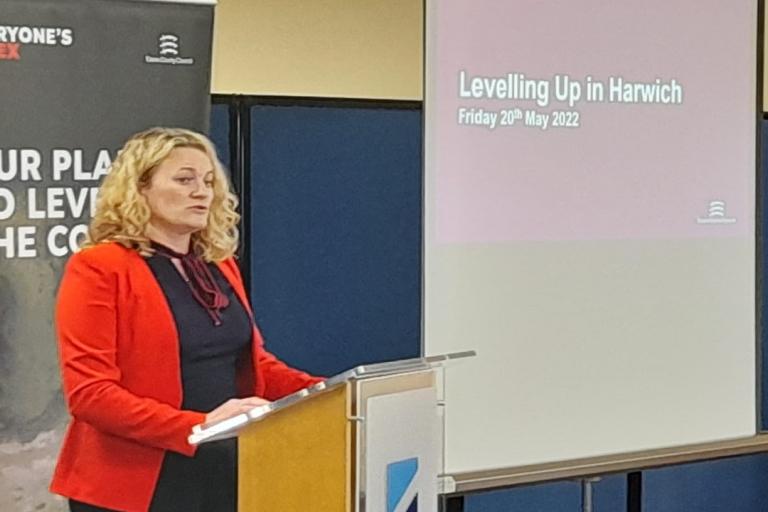 A forward-thinking strategy identifying five county-wide economic growth sectors to provide 13,000 jobs was outlined today at the launch of Essex County Council's Levelling Up programme for Harwich at Freeport East.
The strategy, based on research with hundreds of Essex businesses, builds on existing strengths within the county economy and predicted future trends.
The five growth sectors identified are green construction; clean energy; advanced manufacturing and engineering: Digitech; and life sciences-including MedTech and CareTech.
It is predicted over 13,000 jobs could be created in these sectors over the next five years and ECC will be working in partnership with businesses; universities; City, Borough and District councils; and voluntary organisations to deliver this.
Cllr Lesley Wagland, Essex County Council Cabinet Member for Economic Renewal, Infrastructure and Planning said: "The strategy is about Essex's future, with people now entering a workforce that is evolving, with many of us experiencing more than one career in our lifetime.
"The strategy has been put together to help develop new opportunities here in Essex for our residents and for businesses to grow and invest here. We want to make sure we support residents and businesses, to make the most of these opportunities and make sure everyone has a chance to fulfil their potential."
The strategy has identified several upcoming opportunities for jobs and economic growth in Essex including:
• the need to retrofit 650,000 homes in Essex,
• 10,000 new jobs in the construction sector needed to make the county more sustainable,
• ·new roles such as heat pump installers,
• digital skills that businesses are keen to acquire such as coding, data ethics and advanced statistics.
The launch of the strategy will be followed by an action plan this summer, setting out further recommendations for how Essex County Council will support its delivery.
Read Everyone's Essex – Our Plan for Levelling Up the County.
Read the sector Development Strategy.