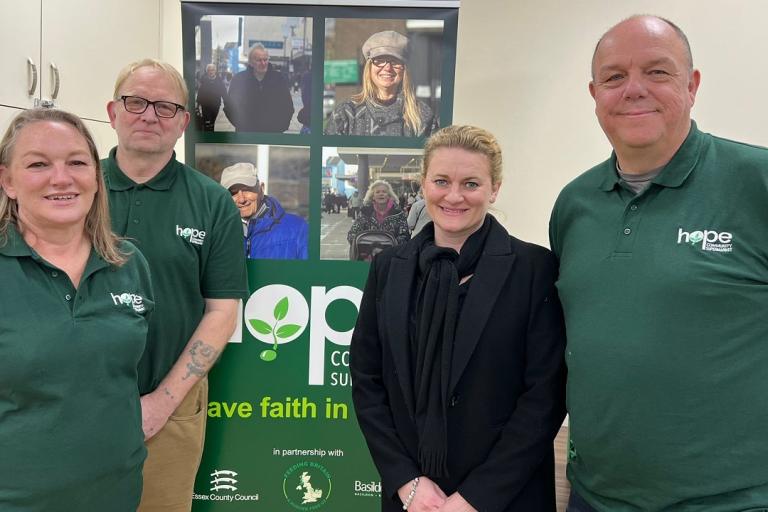 The first community supermarket has opened in Essex at the Laindon Community Centre.
For a small membership fee, anyone with a Basildon postcode can now come and shop at the Hope Community Supermarket. It is open every Friday from 10am until 12pm.
The supermarket is being run by local organisation the Billericay Street Pastors and Hopethree16, with investment from us. It is a non-profit project supported by volunteers and is the first of two we are supporting.
A second supermarket in Jaywick Sands near Clacton is also in development.
The Essex community supermarkets offer people who may be struggling with food bills the opportunity to purchase food and household essentials at reduced prices, bridging the gap between food banks and affordable supermarkets.
The supermarket follows the model designed by national experts Feeding Britain.
Cllr Louise McKinlay, Deputy Leader of Essex County Council and Cabinet Member for Community, Partnerships and Performance said: "We know how much pressure family budgets are going to be under this Christmas and into the New Year, so this is welcome and timely support for families. We are already seeing customer numbers in Laindon and Jaywick Sands beginning to build.
"But it's not just about food. Hope Community Supermarket is also a vital local hub, bringing neighbours and communities together and offering a warm welcome and friendly face to anyone needing support during these challenging times.
"We hope to open more community supermarkets across our Levelling Up activity areas, reaching even more families across the County who need support."
Phil Norton, Chair of Billericay Street Pastors said: "With ever increasing costs for every-day essentials, such as food and fuel, there is a real need to help families who may be struggling to make ends meet.
"The introduction of this new Community Supermarket will mean that local people will be able to save some money on their weekly bills, giving them essential extra funds for things like utility bills or school uniform or anything else that their families need.
"We look forward to building relationships with all our customers and welcome anyone from the local area to pop in, choose some food you like and come and say hello."
Find out more about the Hope Community Supermarket in this video: