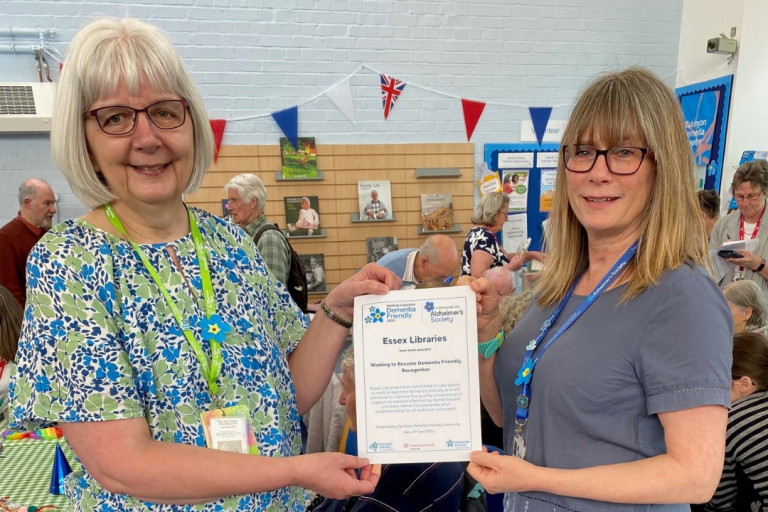 Essex Library Service has achieved Alzheimer's Society's Working to Become Dementia Friendly recognition.
The status applies across all 74 libraries in Essex. It recognises our commitment to improve the experience of people living with dementia, as well as their families and carers, when using Essex libraries.
Alzheimer's Society looked at what we've done to improve our service to people affected by dementia. This includes:
training employees and volunteers
a commitment to helping employees and volunteers become Dementia Friends
setting up dementia groups in libraries
making links in communities with relevant partners
Councillor Louise McKinlay, Essex County Council Deputy Leader and Cabinet Member for Community, Equality, Partnerships and Performance, said: "Essex Library Service is immensely proud to achieve this recognition from the Alzheimer's Society. We have been working closely with them to make our libraries Dementia Friendly and have developed a plan to keep improving as we move forward.
"By making our libraries more accessible, we can help people living with dementia, as well as others who may have additional needs, to remain part of the community, be more active in the local area and live better, more fulfilled lives."
To find out more about Working Towards Becoming Dementia Friendly Recognition, email dementia.team@essex.gov.uk.
Learn more about the dementia support available in Essex and the support provided by Alzheimer's Society.