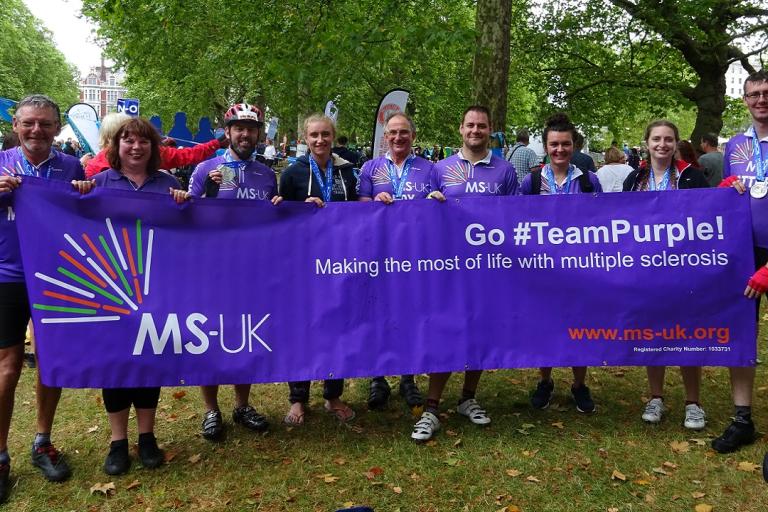 An estimated 25,000 riders will take part in this year's Ford RideLondon-Essex. Many of them will be riding to raise money and awareness for good causes.
Since the event began in 2013 it is estimated that more than £80 million has been raised for charity.
There are hundreds of charities represented in this year's ride. Among them are several local charities from Essex.
Essex & Herts Air Ambulance
Essex & Herts Air Ambulance, unlike the NHS emergency services, is a charity. The free life-saving service is provided 24/7 by helicopters and by rapid response vehicles in the hours of darkness. This is the first year the charity has had riders in Ford RideLondon-Essex.
Among them will be Matt Challis from Chelmsford. In September last year, Matt's dad suffered a cardiac arrest whilst at the gym. He was airlifted to the Royal London Hospital by the Essex & Herts Air Ambulance Service. The speed they were able to get him to the hospital as contributed to saving his life. Matt said: "I wanted to do something to help their fundraising and heard about the RideLondon-Essex challenge. Myself, my brother and two friends will be taking part raising money."
Havens Hospices
Havens Hospices provides palliative nursing and supportive care to adults, young people and children living with complex or incurable conditions across Essex. The charity's specialist Care Teams can support them and their family in their own home or at its two hospices, Fair Havens in Southend-on-Sea and Little Havens in Benfleet. Little Havens is the only children's hospice in Essex.
This is the first time that Havens have rider places in Ford RideLondon since 2019 and they are hoping to raise £3,000. All the money will be helping both hospices continue to provide specialist hospice care.
Headway Essex
In Essex, every 58 minutes, somebody is admitted to hospital with an acquired brain injury. Headway Essex's mission is to ensure that everyone in Essex living with an acquired brain injury can live a fulfilling life.
Headway Essex relies on voluntary donations to continue to provide vital services. Just £20 raised could provide a brain injury telephone assessment with vital advice and support and £100 could provide fuel for the Headway minibus for a month.
Headway Essex has three riders in the Ford RideLondon-Essex 60 challenge, among them is Sunny Bamra, who received support from the charity following a brain injury. He said: "Essex Headway were the backbone to my recovery. I will always be indebted to their personalised care and support. Taking on this Ford RideLondon-Essex 60 is just a small thank you and the opportunity to raise awareness of support that is available within Essex."
MS-UK
MS-UK is a national charity, based in Colchester, supporting people affected by Multiple Sclerosis. They empower anyone affected by MS to live healthier and happier lives by improving the understanding of MS and providing support.
MS-UK has been taking part in Ford RideLondon since 2014 and is hoping to raise £12,000 this year with 12 riders in the 100-mile event. If successful, the money raised will help contribute to the cost of running their national helpline.
One of the riders taking part said: "This will be the first time I will be taking part in Ford RideLondon-Essex 100. MS-UK have done so much for me since 2020 I wanted to take on a challenge to raise some money to give back to the charity and support other people living with the condition too. I lost some of my vision back in 2021 and I feel empowered to take part in RideLondon- Essex because of the support I know that MS-UK will give me."