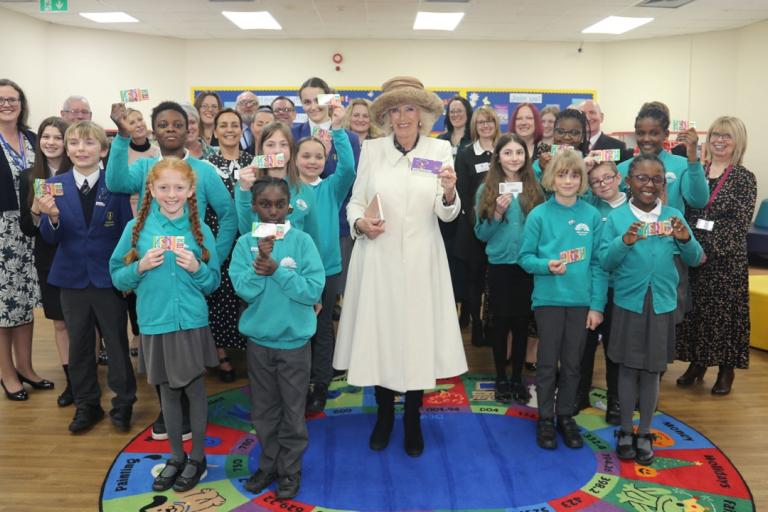 We were delighted to welcome The King and The Queen Consort to Colchester Library today (Tuesday 7 March) as part of Colchester's city status celebrations.
The Queen Consort heard more about the Essex Year of Reading, our libraries and plans to improve pupils' literacy levels. His Majesty The King met with representatives from Age UK to learn more about the work they do.
Our £1 million Essex Year of Reading initiative has been supporting young people whose education has been affected by the pandemic to help them discover a lifelong love of reading.
The initiative has involved a wide range of educational interventions and has been supported by activities, author events and competitions which have encouraged families to get involved.
The Queen Consort heard from local school children on the Essex Year of Reading and listened to a special reading of Alice in Wonderland by a pupil from Braiswick Primary school. Winner of the Essex Year of Reading writing competition, Maddy Earl, was presented with her award by The Queen Consort.
Famous authors Frank Cottrell-Boyce and Dermot O-Leary also attended the library to welcome Their Majesties. Both authors have previously shown their support for the Essex Year of Reading campaign.
Cllr Tony Ball, Essex County Council's Cabinet Member for Education Excellence, Lifelong Learning and Employability, said: "We are delighted that The King and The Queen Consort were able to visit one of our libraries today and hear more about the fantastic work we are continuing to do through the Essex Year of Reading. Supporting pupils to improve their reading skills over the past year has been an incredible journey and I could not be prouder of what we have achieved.
"Collaboration – internally and externally – has undoubtedly been key to our success and the county's libraries have been integral to supporting our aims and high aspirations for every child in Essex."
During the Essex Year of Reading, Essex Library Service has supported author visits, created dedicated literacy areas and helped to ensure that every primary school age child in Essex received a free library card.
Cllr Louise McKinlay, Deputy Leader and Cabinet Member responsible for Libraries said: "Today was an amazing opportunity for us to showcase our fantastic Library service on a national level. To host The King and The Queen Consort at Colchester Library and demonstrate our passion and commitment for our libraries, was a real honour.
"Improving literacy and encouraging a love of reading among adults and children is a priority for us and we will continue to work hard to make sure that everyone in the county has the same opportunities to achieve this."
The Essex Year of Reading has paved the way for the new Essex Year of Numbers campaign that is due to officially launch later in the spring. Today, Cllr Ball announced we would be providing £1.5million worth of funding for this, along with the continuation of the Essex Education Taskforce and the Year of Reading legacy.
Further information about the Essex Year of Numbers campaign and projects will be shared in the coming months.