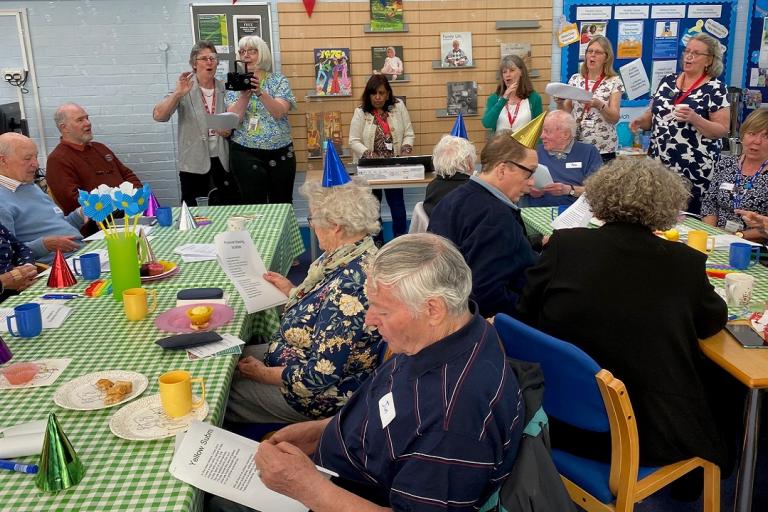 Our popular Memory Cafe at Harwich Library has celebrated one year supporting people living with dementia.
The milestone moment was celebrated with a special event at the venue on 16 May which falls during Dementia Action Week.
During its first year, a total of 19 events helped to support almost 200 people with dementia and their carers.
Two further dementia support events have also now launched in North Essex.
Dementia support events
The Memory Café, Harwich Library
The first and third Tuesday of the month, 10.30am to 12pm
The Memory Café, Manningtree Library
The last Friday of the month, 10am to 11am
The Dementia Activity Group, West Clacton Library
The second Tuesday of the month, 10.30am to 12pm
Memory cafes are beneficial for people living with dementia. They enable people to meet and interact with others, as well as take part in activities that can help reignite memories and encourage cognitive stimulation. They also offer support, further information and advice.
The space inside Harwich Library is available to anyone with dementia, as well as their family or friend care partners.
Cllr John Spence, Essex County Council Cabinet Member for Adult Social Care and Health, said: "By providing dementia care within a shared space, in addition to achieving its primary aim of helping people living with dementia it has also encouraged positive connections between children and young people, older people and the wider community.
"Congratulations to the Memory Café and all the volunteers who've worked so hard to make it a success over the last year. I wish I had been there to share the cake!"
Councillor Louise McKinlay, Essex County Council Deputy Leader and Cabinet Member for Community, Equality, Partnerships and Performance said: "Our libraries aren't just valued as somewhere you can borrow books, but as a social space and somewhere residents of all ages can learn new skills and access new opportunities.
"The Memory Cafe at Harwich Library is one example of how our libraries are able to provide extra support to those who need it, connecting people living with dementia with family, friends and carers, as well as their local community."
Find out more about dementia care and support in Essex.