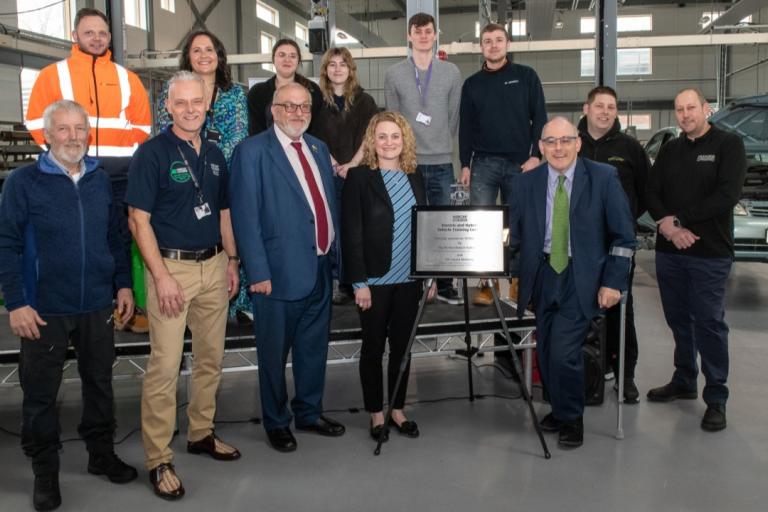 Essex County Council is funding 50 new places at Harlow College, giving local people the chance to develop professional green skills qualifications in electric vehicle repair and maintenance, in new facilities located within the college campus.
Investment for the 50 new training places is being funded through the Council's Levelling Up fund, as part of the Council's Everyone's Essex strategy. The electric vehicle repair and maintenance courses have been developed by partners Essex County Council, Harlow College and Harlow District Council.
The Electric Vehicle Centre was officially opened on Friday 10 March by Robert Halfon, MP for Harlow and Minister of State for Skills, Apprenticeships and Higher Education and Cllr Louise McKinlay, Deputy Leader of Essex County Council.
Cllr Louise McKinlay, Deputy Leader of Essex County Council and Cabinet Member for Community, Partnerships and Performance, said: "This centre will support local people to develop new professional qualifications in electric vehicle repair and maintenance, which we know will be a major growth sector in the future.
"It's apt that we celebrate the opening during National Careers Week, as it is so important that we invest and create new opportunities in careers and education as we work to level up the County.
"It is also about developing green skills, as electric vehicles are key to supporting our transition as a County to carbon net zero."
Cllr Tony Ball, Essex County Council Cabinet Member for Education Excellence, Lifelong Learning and Employability, said: "As a Council, we are committed to doing our part to ensure that the people of Harlow have access to the education and skills necessary to secure jobs of the present and future.
"We know that employers in the automotive industry are going to need staff with the appropriate skills to maintain and repair electric vehicles. By increasing participation and the learning experience of individuals undertaking courses and apprenticeships in these sectors, our colleagues at Harlow College can help residents gain the right skills and experience to secure good jobs with local employers.
He added: "This is why we are placing a strong emphasis on education and skills for Levelling Up in Harlow, and it's exciting that local residents will soon be able to make use of the new Electric Vehicle Centre."
Everyone's Essex – Our Plan for Levelling Up the County is available here.