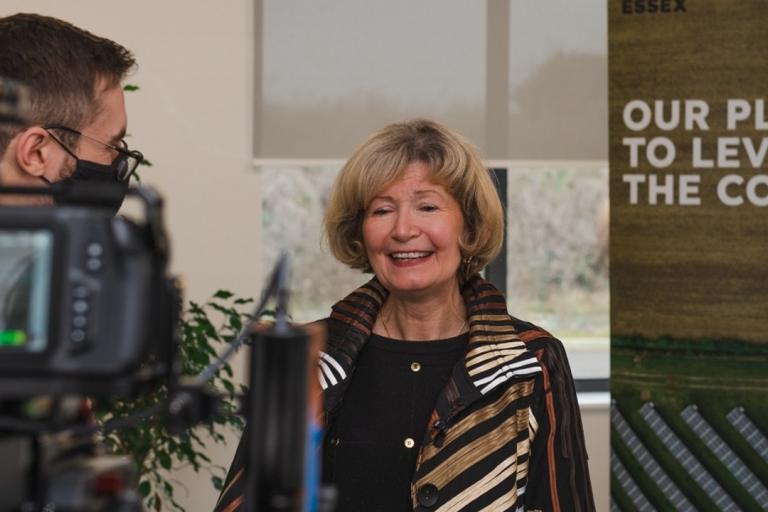 Almost £60 million funding has been secured to help transform the town centres in three of our priority Levelling Up areas.
The funding, secured from the Government's Levelling Up Fund, will lead to a range of improvements to the town and city centres in Clacton, Colchester and Harlow.
We supported Tendring District Council's successful bid, of almost £20 million, which will help regenerate Clacton town centre. Work will see the creation of a new library and learning space, café, a community and commercial building and 28 homes, along with improvements to the existing multi-storey car park.
Colchester City Council's bid, submitted in partnership with us, has secured £19.66 million which will be used on a number of projects designed to create a more attractive environment for residents and visitors. This includes a major upgrade to St Botolph's roundabout, a gateway into the city centre, as well as funding to support schemes to deliver 175 new homes. Additional projects will also make the most of the city's unique heritage assets and deliver workspace and shop front improvements in the city centre.
Significant improvements are planned for Harlow's arts and cultural facilities, with £20 million secured by Harlow Council to develop an Arts and Cultural Quarter in Harlow Town Centre, bringing together the arts, culture and heritage to create a regional hub alongside new homes, public spaces and an expanded library.
Cllr Lesley Wagland OBE, ECC Cabinet Member for Economic Renewal, Infrastructure and Planning, said: "Securing almost £60 million from the Government's Levelling Up Fund is a significant achievement and the investment will make a real difference helping to transform the town centres in Clacton, Colchester and Harlow.
"This funding will build upon the work we have already started to Level Up Essex, supporting our aims to improve infrastructure, create good jobs, boost connectivity and regenerate Essex's town centres as they continue to recover from the impact of the pandemic."
Cllr Kevin Bentley, ECC Leader, added: "This funding gives us great confidence as we look to the future for our great county.
"At Essex County Council we are determined to level up opportunity for residents of Essex and this funding, secured for three of our identified priority areas, is a significant boost to our own plans to Level Up Essex."
Cllr Louise McKinlay, ECC Deputy Leader, and Lead Member for Levelling Up, said: "Our own Levelling Up Essex programme is now in the delivery stage and has already seen the roll out of a significant number of projects across Essex.
"There is much work still to be done, but the announcements today of the funding for these schemes is fantastic and will bring a wealth of opportunities to those areas, so that more residents of Essex can fulfil their potential.
"The investment in Essex Library services will help us to continue improving our infrastructure, creating welcoming accessible spaces which provide more opportunities for residents to read, study, socialise and access support and skills."
Find out more about our Levelling Up Essex Strategy at our website.