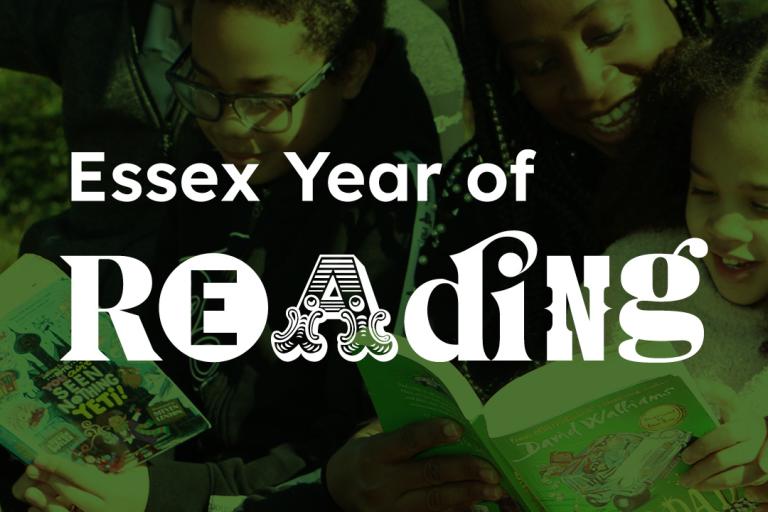 Launched in 2022, the Essex Year of Reading was a countywide campaign created to help children and young people discover a love of reading. Funded by Essex County Council, and created by the Essex Education Task Force, the campaign launched to address the impact Covid-19 has had on young people's education.
Over £1 million was invested into delivering the programme. Multiple projects involved primary, secondary and SEND schools across Essex. An overview of all projects is available in the project directory.
The Essex Year of Reading campaign has been a journey towards creating a legacy that has helped children and young people develop important skills that will serve them now and as they grow. Building on the foundations of the Essex Year of Reading, we are pleased to launch the Essex Year of Numbers.
The countywide campaign will continue to inspire a love of learning in Essex, supporting children, young people, parents and carers to further develop valuable skills in numeracy and beyond.
What happened during the Essex Year of Reading?
During the campaign, activities took place in every corner of the county, including:
author visits to local schools from TV presenter and children's author Dermot O'Leary and classic author Michael Rosen
book swap stalls in schools for children to access new books
storytelling and poetry competitions, with entries from residents aged 4 – 87
Also, more than 160,000 free library cards were given to primary school pupils, to ensure all pupils have free access to books.
Discover a love of reading with your family, by listening to stories read by famous faces and authors plus local heroes. An Essex firefighter, zoo-keeper and carer all read their favourite stories aloud in our 'Tell me a Story' series.
Supporting people with dementia
Essex Year of Reading also supported the launch of the first Memory Cafe in Harwich Library. The drop-in event supports residents living with dementia, and those who are caring for them. After becoming hugely popular in Harwich, two further events have been launched in North Essex.
The Essex Year of Reading showed support to local storytellers with competitions running throughout the campaign. Joan Vicente, a care home resident in Brentwood, had a dream to become a published author once again. Despite having dementia, Joan has shown that this is no barrier to achieving your dreams
Working with Essex County Council's Adult Social Care team, in 2022, Joan was presented with a published edition of her poetry collection. Joan's poems are available to read on the Essex Year of Reading app.
Bringing generations together
Also, a pioneering new scheme brought together young children and older people with dementia. Aiming to support children's reading and writing, primary school children and the elderly have become pen pals and reading partners. Feedback from teachers and carers show that everyone benefits from this.
Resources
Download the app
The Essex Year of Reading app will inspire you or your child to read with confidence. You will find information about Essex libraries, online and in-person events. Plus, you will be able to choose reading material from the:
pupil library including poetry, fiction and non-fiction stories
literacy boosting library including phonics-based reading support
parent or carer library with guides on how to support your child's reading and wider learning
Essex Libraries are an integral part of our county. Visit their website to learn more about Reading Challenges, book recommendations and find your local library.
If you want to improve your literacy skills, ACL Essex offers a positive environment with the dedicated support of tutors to give you the learning experience you deserve.