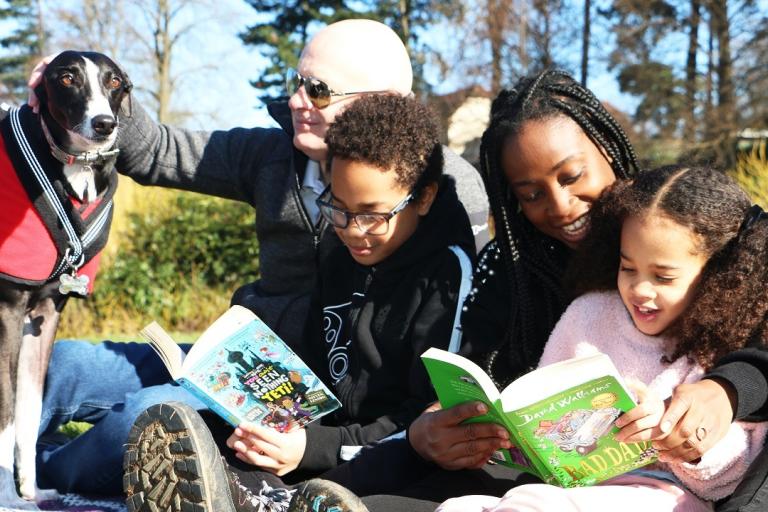 The Essex Year of Reading launched in 2022, aiming to ensure every child in Essex can read well and fulfil their potential. Funded by Essex County Council and created by the Essex Education Task Force, the campaign addressed the impact Covid-19 had on young people's education.
Now, more than 12 months since its launch and as the campaign comes to an end, we are celebrating the success of the Essex Year of Reading. We are also announcing a new campaign to build on its success, Essex Year of Numbers.
During the Essex Year of Reading, we have:
offered 160,000 free library cards to primary school pupils
hosted author visits from famous faces including Dermot O'Leary and Michael Rosen
developed a free app full of reading material, advice and guidance
shared filmed story time sessions featuring local people
supported book swap stalls in schools
run a challenge to read in unusual places across Essex
run storytelling and poetry competitions
brought together pupils and older people to become pen pals
created a book full of new reading material to celebrate the legacy of the campaign
Creating lasting change in schools
Throughout the Essex Year of Reading, several primary, secondary and SEND schools took part in projects, including 'Reading Fluency' training for primary and secondary school teachers. Teachers in nearly 60 schools completed the training and are now delivering interventions, reaching more than 300 pupils. This helped to improve Key Stage 2 pupils comprehension age by an average of two years and two months.
Training has also empowered teachers to support pupils whose reading age is two or more years below their expected age. Training has been delivered at six schools and they are already achieving positive results. On average, pupils are gaining two months of reading age with every half hour session, and their confidence is improving.
Building on the success of the Essex Year of Reading, Essex Year of Numbers has now launched. The new £1.5 million campaign will continue to inspire a lifelong love of learning, with a focus on numeracy. Over the next 12 months, the campaign will challenge people's perception about maths.
Essex Year of Numbers will provide learning opportunities, events and initiatives. We want people of all ages to improve their numeracy skills and feel confident using maths.
Low numeracy skills can affect outcomes for people later in life such as debt, unemployment and even poor health. Without even realising, we use maths every day, from cooking to DIY, to managing money. Maths skills are just as important as reading in helping pupils reach their full potential.
The Essex Year of Numbers will focus on Levelling Up areas in Essex, so that everyone can benefit, whatever their circumstances.
Resources
Resources will be available soon for the Essex Year of Numbers. Resources for the Essex Year of Reading remain available.