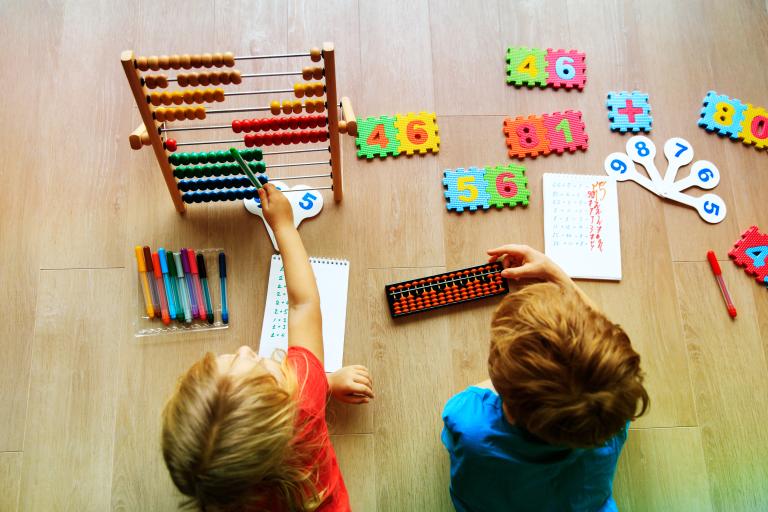 The Lord Lieutenant has launched a competition to kick-off the Essex Year of Numbers. We're inviting children and young people to create a 2D/3D display (maximum size 1m2 or 1m3), with a short video presentation creatively showing the many ways numbers are used in everyday life.  
Entries can include number patterns, diagrams, calculations, explanations, photographs and models. The competition offers students the chance to think creatively about maths and its everyday use.
Jennifer Tolhurst, His Majesty's Lord Lieutenant of Essex explains the competition in more detail.
What an entry might look like 
Numbers are everywhere. They are used in sport for league tables, race times and distances; in music with rhythms and frequencies; in art and photography with the golden ratio and in cooking with weights and costs. Entries can draw on examples of maths any everyday situations.
For more information contact essex.yearofnumbers@essex.gov.uk
Essex Year of Numbers competition terms and conditions
These standard terms and conditions are subject to any other terms and conditions provided to you or to which you are referred at the time of entering the competition. 
1. This competition is organised by Essex County Council (ECC), County Hall, Market Road, Chelmsford, Essex CM1 1QH. 
2. ECC reserves the right to void, suspend, cancel or amend the competition at any time without prior notice. Any changes will be posted on essex.gov.uk
3. In the event of any dispute regarding the competition, the final decision of ECC shall be binding and no correspondence or discussion shall be entered into. Terms and conditions shall be governed by English law and the parties submit to the exclusive jurisdiction of the courts of England and Wales. 
4. This competition is separate to any other Essex Year of Numbers competition and people can choose to take part in all, any or none. 
5. By submitting an entry to this competition, you are agreeing to the terms and conditions as set out, and you warrant that you have the legal capacity to enter into and agree to be bound by the same.  
Qualifying entrants 
6. Entrants must satisfy the following conditions to enter the competition: 
7. Live, work or learn in Essex  
8. Submit a display and corresponding video that is; their own work, not subject to copyright art or infringes copyright 
9. The entry can be from an individual, pair or group. 
10. Employees of ECC and their families are eligible to enter this competition. 
11. Use of false name or address will result in disqualification. 
12. ECC reserves the right to disqualify any entrant if it has reasonable grounds to believe the entrant has breached any of these terms and conditions. 
13. ECC reserves the right to disqualify an entrant or work if their conduct or submitted entry does not fit with the entry criteria or is contrary to the spirit or intention of the competition. 
14. ECC reserves the right to not publish entries it deems could cause offense to other readers 
15. ECC will not accept competition entries that are automatically generated by computer; completed by third parties in bulk; illegible, altered, reconstructed, forged or tampered with; or incomplete. 
Competition entries 
16. The Essex Year of Numbers team is inviting entrants to submit a display that demonstrates how we use maths and numbers in every day life, and a supporting video that explains the entry and its connection to maths.   
17. Entries can be submitted by individual pupils or groups. Please ensure full contact details (name of contributor, age, address, telephone number and email address) are submitted with the entry. 
18. Entries can be submitted by email to essex.yearofnumbers@essex.gov.uk
19. Entry to the competition is free, however, all materials for the creation and submission of work must be provided by the entrant. 
20. All work must be the original idea of the entrant and not infringe anyone else's copyright. 
23. The closing date for the competition is 31st January 2024. 
24. Entries received after the closing date are automatically disqualified. 
25. ECC accepts one entry per individual, which can include more than one entrant per school. 
27. Entries welcomed from schools, classes, individuals and community groups. Judging will be via a panel made up of Year on Numbers team, library and school colleagues plus the Lord Lieutenant and her deputies. 
28. The overall winner in each age category will be chosen from the finalists by a member of the panel. 
29. Certificates for those shortlisted and prizes for the winners will be sent to individuals by ECC.  
30. Where space allows, will be displayed in libraries. Some entries will also be displayed on the council and/or library website and social media. 
31. ECC cannot accept responsibility for any error, omission, interruption, deletion, defect, delay in operation, communications line failure, theft, destruction, alteration of, or unauthorised access to entries, quadrants or entries lost or delayed whether or not arising during operation as a result of server functions, virus, bugs or other causes outside its control. 
32. ECC accepts no responsibility for entries not received for whatever reason or for missing contact details submitted with each entry. 
33. By entering this competition, the entrant or the parent/carer on behalf of an entrant is indicating their agreement to be bound by these terms and conditions. 
Prizes
34. All shortlisted entries will receive a certificate and have their work published on the Essex Year of Numbers App. 
35. The overall winner will also receive an additional prize of a £100 book token. 
36. These prizes are - non-transferable and no cash alternatives to the prizes will be offered. 
37. By entering the competition, the winner(s) agree(s) to take part in publicity e.g. media, social media and featuring on the ECC website.
Liability 
38. ECC cannot accept any responsibility for any damage, loss, injury or disappointment suffered by any entrant entering the competition or as a result of accepting any prize. ECC is not responsible for any problems or technical malfunction of any computer on-line systems, servers or providers, computer equipment, software failure of any email or entry to be received on account of technical problems or traffic congestion on the internet, including any injury or damage to entrant's or any other person's computer relating to or resulting from participation or downloading any materials in the competition. 
Data protection and publicity 
39. ECC handles information in accordance with the Freedom of Information Act 2000, the Data Protection Act 2018 and the UK General Data Protection Regulation and is the data controller for the purposes of the Data Protection Act 2018 ([ECC privacy notice](https://www.essex.gov.uk/your-privacy)). The personal information provided by you when entering into the competition will be used to administer the competition and will not be shared with anyone unless the law allows us to do so. Essex County Council will hold your name, age, email and postal address to announce the winner of the competition. 
40. By providing your name, age, email and postal address to ECC you consent to ECC processing your personal data for the purpose of running this competition and to provide you with information about this competition.  
41. If you would like to see any personal information held on you by us please contact Transparency Team (TT): Essex County Council, PO Box 11, Chelmsford CM1 1LX, 01245 431851.
How to contacts us 
42. You can contact us in relation to the competition by writing to Essex Year of Numbers  competition, County Hall, Market Road, Chelmsford, Essex CM1 1QH. 
Related news